Can red spots cause breast cancer, The second most common cause of death in women?
After skin cancer, breast cancer is the most common cancer detected in women. Breast cancer also occurs in men but is most common in women.
Do You Know? This is the second most popular reason for the death of women after lung cancer.
Cancer occurs when mutations or abnormal changes in the genes control the growth of cells and keeps them healthy. The genes are in each cell's nucleus and act as the "control room" of each cell.
Normally, the cells in our bodies replace themselves through a process of cell growth. But after some time, mutations can "turn on" certain genes and "turn off" others in a cell. That changed cell now gains the ability to keep dividing without control or order, producing more cells which form a tumor in the breast.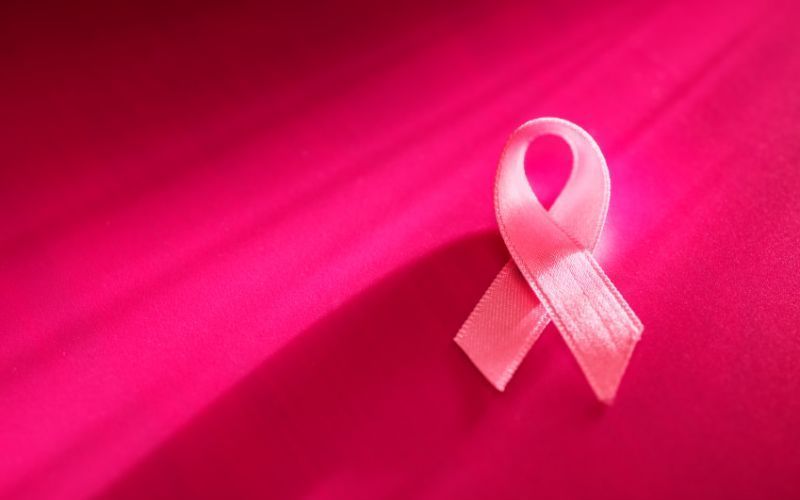 Are red spots on the breast are the sign of cancer?
What are the risk factors of this cancer?
Red spots on the breast are usually symptoms of a rash or other skin infections. But, they can also be a visual sign of breast cancer.
A lump on the breast is just one of the possible signs of breast cancer in men or women. Breast cancer can cause several additional changes to the skin and on around the breast.
Do you know? In India 2018, 1, 62, 468 new cases and 87,090 deaths were reported for breast cancer in India.
What are the symptoms of Breast Cancer?
The first symptom of breast cancer is an area of thickened tissue in the breast or a lump in the breast or in an armpit. The other symptoms are given below:
Swelling of all part of a breast

Skin irritation or dimpling

Breast or nipple pain

Nipple retraction

Redness, scaliness or thickening of the nipple and breast skin

Nipple discharge
How many stages of Breast Cancer are there?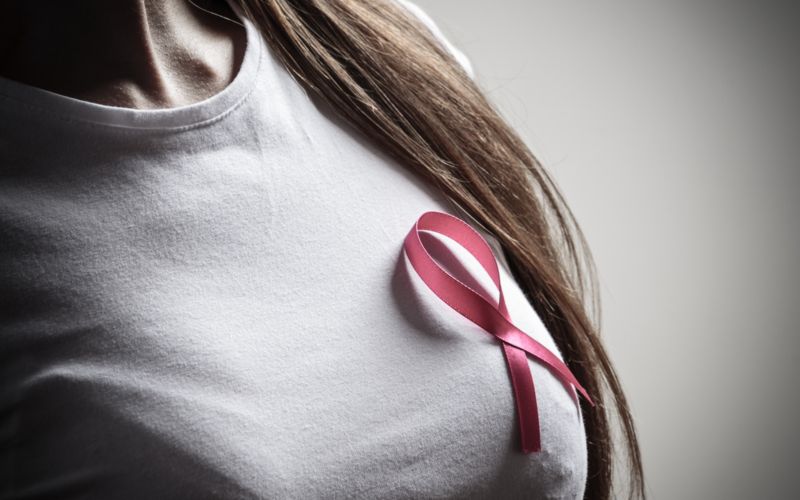 Breast Cancer is staged according to the size of the tumor and whether it has spread to lymph nodes or other parts of the body.
Here are the different stages of breast cancer:
Stage 0: Also known as ductal carcinoma in situ (DCIS), the cells are limited to within a duct and have not invaded surrounding tissues.
Stage 1: The tumor is up to 2 centimeters (cm) at the beginning of this stage, and it has not affected any lymph nodes.
Stage 2: This stage started the tumor to spread into nearby nodes.
Stage 3: In this stage, the tumor is up to 5 cm across and it may have spread to some lymph nodes.
Stage 4: This the last stage in which cancer has spread to distant organs, especially the bones, liver, brain, or lungs.
Do you know? Overall, 1 in 28 women is likely to develop breast cancer during their lifetime.
What are the causes of Breast Cancer?
After puberty, a woman's breast consists of fat, connective tissue, and thousands of lobules and tiny glands, which produce milk for breastfeeding. Tiny tubes and ducts carry the milk toward the nipple.
In Breast cancer, the body's cells multiply rapidly. Breast cancer usually starts in the inner lining of milk ducts or the lobules that supply the milk. From there, cancer is spread to other parts of the body.
How many types of Breast Cancer are there?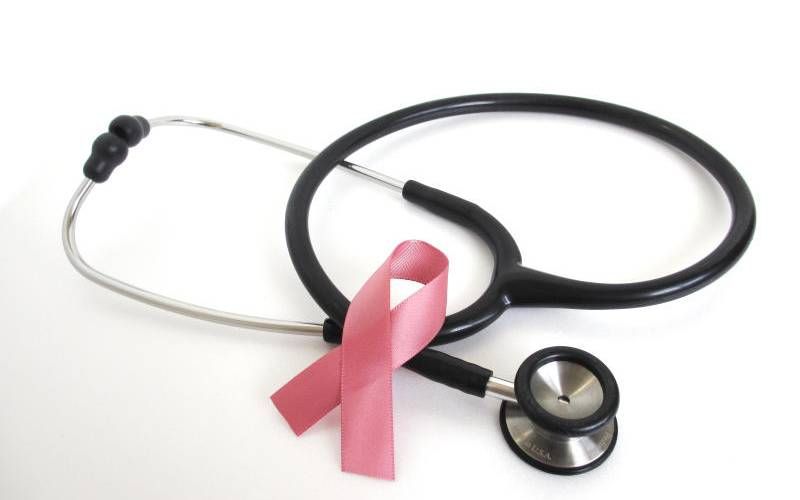 Breast cancer can begin in different areas of the breast such as the ducts, the lobules, or in some cases, between the tissues.
The types of Breast cancer are categorized into three different parts non-invasive, invasive, and metastatic breast cancers.
Ductal Carcinoma In Situ (DCIS)

Invasive Ductal Carcinoma (IDC)

IDC Type: Tubular Carcinoma of the Breast

IDC Type: Medullary Carcinoma of the Breast

IDC Type: Mucinous Carcinoma of the Breast

IDC Type: Papillary Carcinoma of the Breast

IDC Type: Cribriform Carcinoma of the Breast

Invasive Lobular Carcinoma (ILC)

Inflammatory Breast Cancer

Lobular Carcinoma In Situ (LCIS)

Male Breast Cancer

Molecular Subtypes of Breast Cancer

Paget's Disease of the Nipple

Phyllodes Tumors of the Breast

Metastatic Breast Cancer
What are the risk factors of Breast cancer?
Some women will get breast cancer even without any risk factors. Having a risk factor does not mean you will get cancer, and not all risk factors have the same effect.
In case you have breast cancer risk factors, consult with your doctor about screening for breast cancer.
These are some risk factors are given below:
Getting older.

Genetic mutations.

Reproductive history

Having dense breasts.

The family history of breast cancer.

Previous treatment using radiation therapy.

Women who took the drug diethylstilbestrol (DES)
Do you know? Tamil Nadu, Maharashtra, and Delhi have the highest rate of breast cancer.
How breast cancer affects a man's body?
Male breast cancer is very rare. Less than one percent of all breast cancer cases develop in men and only one in a thousand men will be diagnosed with breast cancer.
Breast cancer in men is usually spotted as a hard lump under the nipple and areola. Men carry a higher death rate than women because of lack of awareness to assume a lump is breast cancer, which can cause a delay in seeking treatment.
Breast cancer in men has the vast majority of Infiltrating Ductal Carcinoma (IDC) cases which means cells in or around the ducts begin to assault surrounding tissue. A man who has breast cancer might be diagnosed with inflammatory breast cancer or Paget disease of the nipple.
Male breast cancer has the same symptoms as breast cancer in women, including a lump. Early exposure to breast cancer increases treatment options and reduces the risk of dying from breast cancer.
How Breast cancer can be treated or diagnosed?

Breast cancer diagnosis results of the routine screening, or when a woman approaches her doctor after detecting symptoms.
Some diagnostic tests and procedures help to confirm diagnosis are listed below:
Breast exam

Imaging tests

A mammogram

An ultrasound scan

Biopsy

MRI scan
Diagnosis also involves staging cancer, to find:
the size of a tumor

how far it has spread

whether it is invasive or non-invasive

either it has metastasized or spread to other parts of the body.
Treatment of breast cancer will depend on:
the type of breast cancer

the stage of the cancer

sensitivity to hormones

the patient's age, overall health, and preferences
The main treatments of breast cancer are includes:
radiation therapy

surgery

biological therapy, or targeted drug therapy

hormone therapy

chemotherapy
How you prevent yourself from Breast cancer?
There is no sure way to prevent breast cancer, but some changes in your lifestyle routines can reduce the risk of breast and other types of cancer.
These changes are includes:
avoiding excess alcohol consumption

stick to a healthy diet with plenty of fresh fruit and vegetables

getting enough exercise

maintaining a healthy body mass index (BMI)
Summary
Breast cancer can cause symptoms that include changes to the skin on and around the breast.
While many conditions can possibly cause breast changes, including cysts, infections, eczema, and dermatitis. Consult a doctor for diagnosis and treatments which can help determine whether or not any breast changes are cause for concern.
---

Mahima Kumar