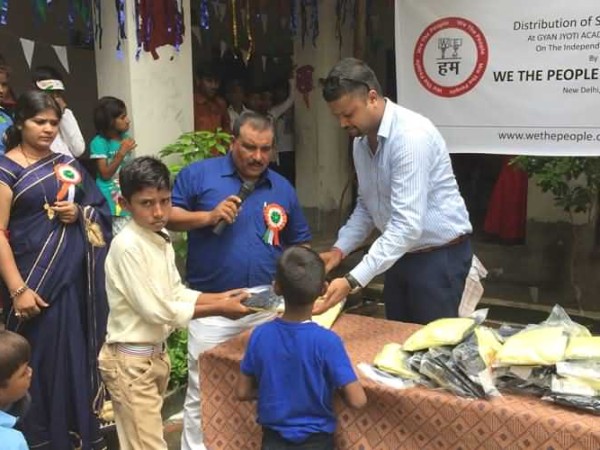 ₹98,848
raised of ₹5,00,000 goal (65 Supporters)
Click Here to Donate Now

Help Anand encourage children from extreme backward area to go to school. We have pledged to provide school uniform to 5000 underprivileged children. According to a a study by National Sample Survey Office, roughly 32 Million children below the age of 13 Years have never been to a school. Most of them are hit by poverty, in turn suffering from a lack of resources and sometimes, due to negligence of the family.

These children usually tend to start working to earn daily bread for themselves or their family. A large number of children dream of going to a school. The lack of basic amenities like Books, Uniform and access to a school plays a major resistance to their dream. 

To support children and ecourage them to continue their school, We The People Foundation have already provided School uniform to more than 500 children from small villages of India. We aim to provide school uniform and book to 5000 school children in the next 3 months.

Can you imagine a child turning up to school just wearing a torn pant and a copy or a book in his hands? This is the truth for a large number of children belonging to the tribal areas of Jharkhand, Orissa, Bihar and West Bengal. It serves enough of a reason to drop out of the school and start working as a labourer. The rate of children not being able to afford education is directly proportional to the rate of child labour in India.

If we have to make our society strong then we have to make our roots stronger, which is to make our children ready for the new world. Lets pledge and support us reach out to those who are really in need.

With a donation of just 600 rupees, you can help us provide school uniform consisting of a Pant, Shirt and Shoes to a poor child. This will not only enhance the moral of such children, but also encourage them to continue their schooling. wethepeople-uniform-distribution. 

You can contribute in our NGO Account with below details.
Name: We The People Foundation
Acc No: 50200041827252
Bank: HDFC Bank
IFSC: HDFC0000089
If you have any question about this program and the ground report, you may connect to the Project Leader Mr Vishal Kumar Chaurasia on +91 7991159473 or write to us on [email protected] 
Let's Contribute for a better tomorrow!
Donate
---
Or
Donate quickly using PayTM or Google Pay
IMPS/NEFT Transfer

Name: We The People Foundation
Acc No: 50200041827252
Bank: HDFC Bank
IFSC: HDFC0000089