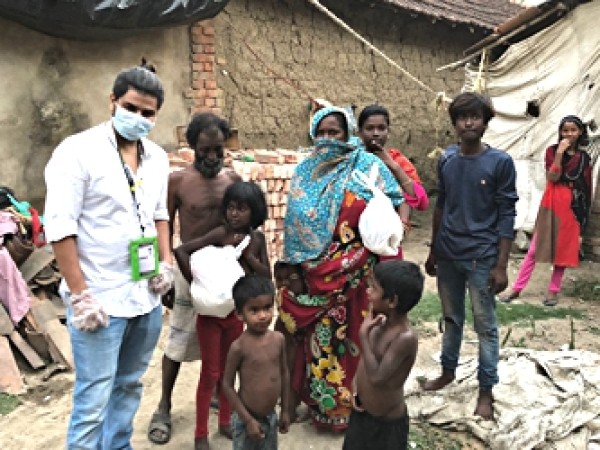 ₹10,000
raised of ₹1,00,000 goal (2 Supporters)
Click Here to Donate Now

The most dreaded cyclone tore through West Bengal and Orissa in India on 20th May 2020, knocking down trees, destroying houses and killing more than 72 people. Cyclone Amphan hit India's eastern coast at a time when everyone was already struggling with the coronavirus infections. 

Many residents along India's eastern coast were rushed into emergency shelters. The problem lay in the fact that shelters weren't even available because they had been converted into quarantine centres. Still, by the evening of 20th May, more than 30 lakh people had been whisked from their homes along the Bay of Bengal and were staying in shelters. 

Cyclone Amphan left a devastating effect. Many underprivileged families are majorly shaken & require basic help in terms of a temporary roof and food items.

One of the worst-hit cities was Kolkata. The cyclone washed away bridges, left many areas without electricity or phone service and caused heavy damage in several areas. 

We the People Foundation is an NGO built by the people for the people. We prospect through social platforms that enable us to cultivate our aim to stand by the people who need us. Our volunteers are doing their part to extend a helping hand to people who have lost their homes amidst the Covid-19 crisis. With no jobs and no home, more than 10000 families are stranded in shelters and by the street side. 

We are raising funds to feed these affected families by providing them with food kits. Each food kit would contain a combination of Dal, Rice, Salt, Sugar, Wheat flour, Soap, paste etc. The cost of each food kit for a family is INR 460. The campaign aims to help 10000 affected families.  
Your support as we face the aftermath of a deadly cyclone during the Covid lockdown will make a huge difference. Please donate generously. Each donation matters.
Rice 4kg= Rs 120, 
Dal 1 kg = Rs 80, 
Atta 2 kg = Rs 70, 
Potato 2kg = Rs 78, 
Salt = Rs 18, 
Soap 1 pcs= Rs 18, 
Detergent 250 GM's= Rs 16, Oil= 60 
Total = Rs 460 Per Family
https://www.facebook.com/wtpcharity/
https://m.facebook.com/story.php?story_fbid=4095227130517773&id=100000915798434
Donate
---
Or
Donate quickly using PayTM or Google Pay
IMPS/NEFT Transfer

Name: We The People Foundation
Acc No: 50200041827252
Bank: HDFC Bank
IFSC: HDFC0000089