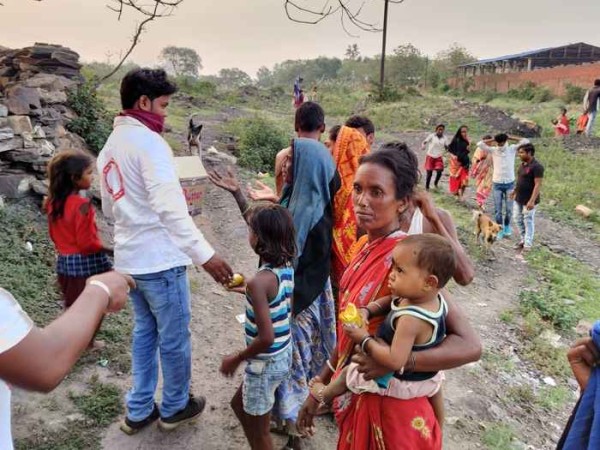 ₹7,68,785
raised of ₹10,00,000 goal (419 Supporters)
Click Here to Donate Now

The world has come to a standstill. We are living a nightmare, a painful reality that has impacted each and everyone of us. In this testing times, the most vulnerable millions of invisibles among us the Daily wage labourers and house hold workers who helped us build our cities, supported us in our daily lives are struggling to survive. Without work, they are financially paralysed and unfortunately they can't support their families.
Relief Work By We The People
The agony of Helpless children, crying women unknown to the extremity of situation are begging to be fed. But poor beings, are just helpless. Or are they, if we could extend our hands.

World never saw a pandemic of this scale. Humanity has to raise and stand for each other. And at We the People Foundation, we have become a means to help and reach to the needy end. 

We have started an outreach for 15000 migrant workers, to help and stop the exodus of thousands of scared migrant workers some of them have taken the extreme step of walking hundreds of kilometres to reach to their homes. It's in this regard that We the People Foundation urges everyone to come forward and contribute in whatever best way they can, we will reach out to people in need with your support and provide them with grocery and food material to survive in this difficult time.

Our request to you is to open your hearts and support a family for a month. Here is the list of items that we intend to provide everyone, that includes basic survival items like food and sanitation.
Rice 4kg= Rs 134, Dal 1 kg = Rs 90, Atta 2 kg = Rs 70, Potato 2kg = Rs 48, Salt = Rs 18, Soap 1 pcs= Rs 18, Detergent 250 GM's= Rs 17, Oil= 65 Total = Rs 460 Per Family. Mere every Rs 460 donated by you will help feed one person for 15 days, and let the children and the parents sleep without hungry a stomach.
More people are at the risk of dying out of hunger than the Coronavirus itself. It will be too late if we don't act now.

If you have any question about this program and the ground report, you may connect to the Project Leader Mr Vishal Kumar Chaurasia on +918434053333 or write to us on [email protected]
Each One, Save One!
Relief Work By We The People



Donate Now To Support The Cause
Donate
---
Or
Donate quickly using PayTM or Google Pay
IMPS/NEFT Transfer

Name: We The People Foundation
Acc No: 50200041827252
Bank: HDFC Bank
IFSC: HDFC0000089